T-Shirts
With the T-Shirt, you also get a copy of the Loose Thread EP "Dirty Boots" Loose Thread live at the Willow Festival!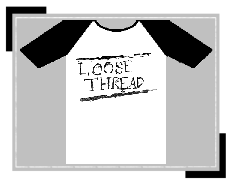 Loose Thread T-Shirts are now available at Loose Thread gigs priced at £10 each!
There is a wide selection of sizes available to fit Loose Thread fans of all shapes and sizes.
"Dirty Boots" is a Live CD recorded at the Peterbourogh Willow Festival 2002.
The CD features 5 favourite Loose Thread tracks!
The track listing is:
1. Holdin' On
2. Wasting My Time
3. On My Own
4. StarMaker
5. Turnaround
Send us a picture of you proudly wearing your Loose Thread T-Shirt and it may just appear in the Rogues Gallery!