Esquires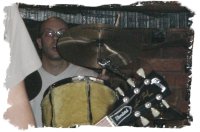 Fuckin' 'ell, a band thats happy. Shit, very wrong night. Loose Thread are the anti nu-metaller's wet dream; a band that don't rely on crying and disfunctional families for lyrical and musical inspiration. Think Cheap Trick, Pistols, Beatles and the much missed Wildhearts all together on one big fuck-off union with fists in the air and chouruses so big not even an Islamic suicide bomber could destroy them.

With little crowd response the band still carry on bravely but you can tell they're frustrated. For fucks sake what's wrong with being happy and getting pissed. Thats what the band is all about. Fuckin' hell,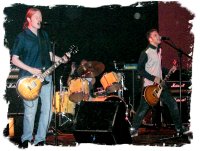 they even play a Wildhearts cover, "Miles away girl" and an excellent cover it is. Still nobody is paying attention. Finishing off with two yo-yos songs the band have stood their ground and soon when this miserable nu-metal trend is over and the 10-year olds have grown out of their Slipknot hoodies the have the potential be the next big Brit-rock band.
Class band - wrong night. The reason for being the wrong night that out much loved and missed friend Steve "filth" Taylor left us to go skate the half pipes in heaven. Steve lived fast and died young - too young. Respect and condolences to the Taylor family.
This article can be found at http://www16.brinkster.com/bedfordmetal/reviews/bmloose.htm