UK Tour April 2003
"4 Men in Another Van?"
Loose Thread UK Tour April 2003
5th April '03
First Day of our UK tour. Nerves are a bit high, we're alone this time, more work has been done by us to organise the tour as we did it ourselves. Just more things to think about, but that as they say is the circus.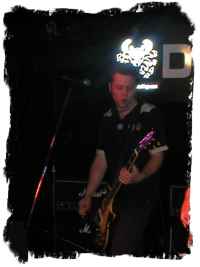 Meet up around 4 and head to Cambridge, it seems a bit strange to be doing this already, I've be planning this out for months and for it to finally be upon us is a bit of shock.
No van at the mo, picking the van up Tues, so for the next 3 days we're car-ing it around as best we can.
Found the venue, nice stage, nice people, I'd had my doubts about the here, our phone calls have been a bit misleading and there's plenty of "You said" and "I don't know" being thrown about.
Crowd is low and the room looks a lot bigger than usual. Can't be helped, things we're crossed and plans weren't laid out.
Support tonight came from Blast a band from Russia... .. Russia. .. . They must feel so far away from home! good band though and a good bunch of guys an English guys called Alex is booking them around our little island, nice, glad to have met them.
Set was a blur, band was tight, Kev`s amp gave up on the last but 1 song, hopefully we can fix it for London!
Some little prick thought it would be fun to spit beer at me! Why buy a beer and then spit it over someone? Money to burn or what? I think Ginger from the Wildhearts said that, makes sense, anyway the guy vanished after my reaction.
£30.00 crossed into our hands, good little starter really. Met up with Jo again, great to see her again and pleased she's doing alright.
Hit the road around 1:30am, it's now 2:30am glad the first ones over, and this is the only gig I was worried about. Something was just not going right at the early stages, lack of communication, lack of interest, lack of effort, who knows, must say the Promoter John was excellent, he didn't take a penny and did ALL he could do overcome the situation, hats off. We and the people there had fun and that IS why we do this, 1 down
London Calling . . . .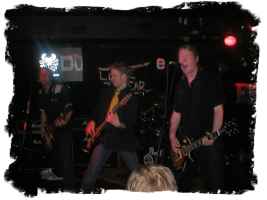 6th April '03
Day starts well, nice to sleep in! I'm feeling a bit spoilt by being able to sleep in my own bed, but this will all change come Wed.
I Love playing the Castle, we've done it a few times now. The only problem is gear sharing, I have no problems with anyone using my amp, but it's always week or 2 of phone calls saying "can I use this" and "will you bring this" and even "What ! Your not brining the drums" AHHHHH I get the feeling we're the only band who have a full back line and able to move it around, why book a London gig it you can't do it alone? Why bet / depend on other peoples gear?
Anyway it all gets sorted, everyone's happy.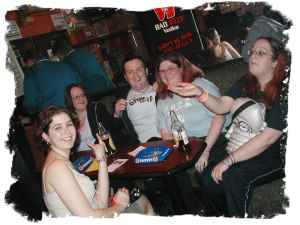 Band meets up around 5:30 and head into our gracious capital!
Sound check is over quick. We're first on so 1/2 is all we have to win the masses.
The Crowd we're EXCELLENT right form the word go, we could hear 'em singing, see 'em dancing and enjoy the show with them. I think this may turn out to be the best night of the tour, but there's only another 6 days or so to go!
The band is in high spirits, it's starting again, we're warming into the road, and it's warming to us. Chris from Psycho once told me about touring and more we do it the more he's was right. You slip into a different life style, something louder and care-free when put along side a normal working week, 'cause face it every rock star works! It's a strangely addictive way to live, that's why bands do it. I think about the likes of Metallica and being on the road for 3 years, all around the world, our tiny almost un-noticeable little journeys have giving us a wealth of good times. I feel VERY lucky to have this in my life, but put it next to 3 years and the world. There must be so much going through the band. I wonder what that's like.
Gonna be a later day tomorrow, more travelling.
1:00am home sweet home.
Leicester Next, get he van in the morning!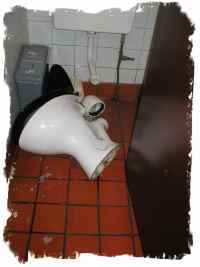 7th April '03
I hate Mondays! Got the van early headed off around 4
The Shed is a good place to play, nice lay out and good food!
Every band on the bill other than us was heavy, the headliners, who asked us to take to top slot (which we turned down), had a kinda Iron Maiden meets metallica thing going on.
All the bands we're Brilliant the guys before us were great, sheared a jar with 'em and the night exploded from there!
Our set was spot on a Great response, on a par with London, loads of dancing!
It seems strange seeing these YOUNG bands; it reminds me of me / us years ago. I find it cool to know that some of these guys will hold on to this feeling and make music like we do. And keep doing it just because they want to. . Just LIKE WE DO.
Well the real road starts tomorrow! Last night of a good sleep!
For the next 5 days we're roughing it around!!
Tomorrow is gonna be a great night, just simply 'cause we're meeting up with Rat:Daddy again. Gonna Make a memory!!
8th April '03
On the road for real now, everything packed in the van and after a good run to Southampton We're in the company of our good friends Rat:Daddy!
Gig was fast the crowd were loud but still.
Finished the night at Gavs, Drinking into the morning.

9th April '03
12:30 headed to south sea for an interview and some food.
The interview went great, gonna be played on the radio tomorrow! An Mp3 of it is available here.
We're on our way to Oxford the whether is overcast, the day has started really well we're looking forward to the gig and the hospitality of Tim from the Ego's who's putting us up for the night.
The road life is starting to get to us now as the bags hold all we need for the next few days.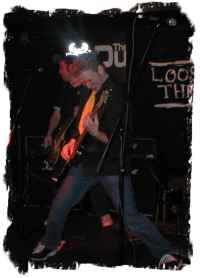 10th April '03
Oxford was very tame not a lot of people and not much response, but there was a great response from the soundman and the owner.
Went back to Tim's had a great night of mind losing proportions, (where the bathroom?)
3:30 we're on our way to Coventry. . . . Food is required. . . . . .Soon.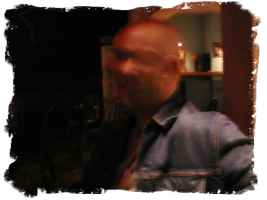 Looking forward tonight, just have a good feeling about this gig. Only 3 gigs left. We're making good money and having a laugh, can't complain.
We really need our own van.
11th April '03
The strangest gig of the tour yesterday. A fantastic stage and great sound great lights, but no crowd? The venue were gonna pull the gig, it all went ok till the cash came into question, lets just say we're learning.
Stayed at Steve's in Leicester, great guy, great time. (A ROMAN ?)
Lancaster tonight, we're headed to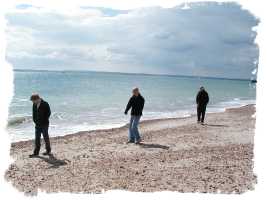 Blackpool to relax for a while, the road has us now. This tour has been a surprise from a money situation, we were expecting the gigs to be quite, but that's this game. Every band has to do these gigs to rooms I like to call it a 1 or 100 gig, it's worth it just for one.

12th April '03
The Lancaster gig was a tough one, the last 3 nights have been hard due to low crowds, but we are over 200 miles from home!
Slept in the venue so a number of after hour's beers sank the evening.
Strange bar side conversations 3 Colours Red may never be the same.
1:30, 30 miles off Edinburgh, I'm looking forward to tonight, I like Edinburgh. Chris and Mel are coming down for us so there will be eager ears.
This tour has been harder than the first, just because we're alone and spreading the word is a LONG game to play. My head is still high and the band want to get through this level so 1 or 100 we keep playing.
13th April '03
Last night was worth the rough road to get here. A fantastic gig in a fantastic city. Went onto a club after the gig, the night got louder and longer, good friends' good times.

Till Next Time
Dave
Loose Thread