Scotland Tour Diary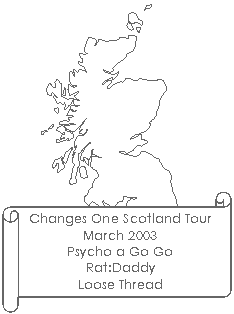 "Four men in a van"
Loose Thread Scotland Tour March 2003
5th March '03
Day started early, a bit too early really. Took Dawn to the airport around 5ish, slept in till 8ish.
The car we've booked for our trip to the north couldn't have been better picked. An Astra estate turned into Toyota Mpv result!
Aimed to be gone by 1, which turned into 2 in true Loose Thread style. The road is very long, but the band is strong and confident we'll get through this.
Reach Stoke-on-Trent around 5:15. Stopped for lash, Don drowned 2 cups of tea. The rains cleared up and the sky has a hopeful light to it, or maybe it's me.
The traffics getting heavy.
On the M6, according to Graham this is the only road we need for the rest of the day. I'm glad I'm not driving. The sun gives us it's final encore for the day as we press on.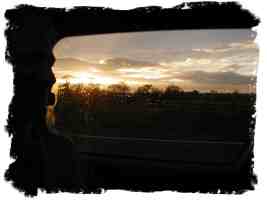 Nights rolling in it's 6:00, Manchester's not far off, "Blackpool in half an hour" 45miles? We will see.
Wigan pier ?
6:30, signs say 83 miles to Carlisle, I think we made Blackpool. The Black album rolls on as does the road.
7:30, stop off at Tebay services, we're just south of Carlisle and the Scottish border. Made Don have tea to go. Want to be there about 10. I don't think they like motorway lights up here! The rain is starting again; don't let this be a sign of what's to come. Looking out the front I see a sea of black, red and the yellow stars of a town I've never been.
Don & Graham use the rear sunroof to stargaze, I was wrong about the rain, it's a clear sky. Carlisle is creeping up.
8:02 cross the border and the rain starts! 85 miles to Glasgow or as it will now be called Glasvegas!
8:30 realise the car is almost out of gas; stop off at the rock n roll capital that is Moffat! Almost left Don at the petrol station, on to Motherwell.
9:17 get off the motorway into Motherwell. Got lost looking for the venue, all directions say it's unmissable?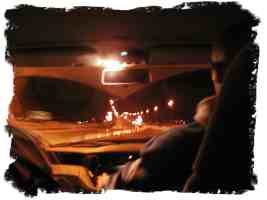 1:13 Rat:Daddy & Psycho were excellent tonight, I think were gonna have an brilliant time here. Chris is really cool too talk to, much partying to be done.
1:20 we're looking for somewhere to sleep. Chris can put us up at his but it's a very long way to Aberdeen a good 2/3 hours. I think we gonna end up sleeping in the car somewhere around Dundee..
We're headed towards The Forth Rail Bridge, looking forward to seeing it at night.
2:00 cross the forth road bridge, the rail bridge was lost in the darkness. Still don't know where were gonna stay. The show tomorrow is in Dundee so it makes sense to stay in the area.
2:30 after looking around a town for somewhere, we're heading for a truck stop on the main road.
1 day down first gig tomorrow. Can't wait.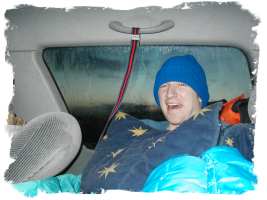 6th March '03
Once again the day starts early 6:24 no idea how much sleep we got 1 or 2 hours! Gonna end up somewhere to kip some more.
9:50 found a great little cafe had a huge breakfast, heading into Dundee to lose a few hours before the gig.
10:45 went for walk around the beach/castle this Scottish wind really blows. Rat:Daddy ended up in a B'n'B gonna meet for a beer later.
Sun is shining and the wind is very cold.
3:37 after a day of sleep we're heading back to the venue, gonna meet up with Rat:Daddy have a few beers n get ready for the gig.
Got to the pub around 4 met up with the Rat:Daddy headed to the venue around 6. Badly promoted by the venue. A very low turn out. Not much could done other then do our set and prove why we came.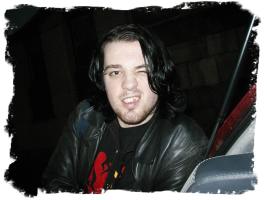 Holdin on
Open ended ego
Wasting my time
On my own
Turnaround
Starmaker
Rehab
Rocked, 1 down!
11:42 Rob from Psycho has joined the van. We're headed to Aberdeen and Chris's flat. Got an instore tomorrow
Gonna be great cause we don't need to travel.

7th March '03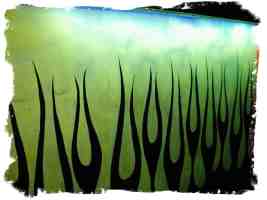 Slept at Chris's, Kev, G, and Don slept at the Robs (Psycho 's bass player). Got up around 11:00, got some breakfast with Rat:Daddy. Been to record shop where we're doing the instore not sure this is a good idea.

Going back to the venue with Don. Me n Kev are gonna do a short Acoustic set:

Holdin' On
Starmaker
Lucy
Goodbye Anyway

Hope to get it on the camcorder.

More fun than work, just the way these things work.

Now at sound check, all is going well and spirits are high. Hoping for a bigger crowd tonight.

11:45 excellent gig, it's starting to feel like a touring group, heading to a club gonna have fun.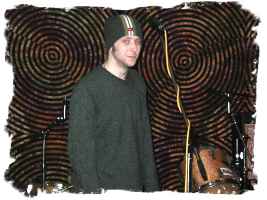 8th March '03
Some c**t floured the car last night. Had a great time at the club. Didn't get much sleep.
2:05 just leaving Chris's flat headed to Glasvegas, feel a bit rough after a night out. Need food.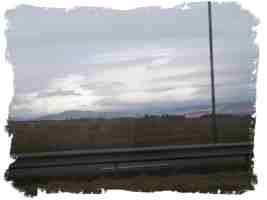 2:45 still on the road. The mountains in the distance remind me where we are. I'm getting used to all the travelling, I'm fighting a cold so I hope my throat can hold out, sure it will I just need to relax. "Wherever I roam" turns our wheels, seems to fit.
4:27 still on the road, Psycho ended up in Edinburgh ! The mist is wrapping its way around us and the rain has reappeared. Aerosmith provides the music as the road snakes away.
5:15 just got to Glasvegas and to make a change we are totally lost ! (so are Rat:Daddy)

9th March '03
Great gig last night went onto a club called the Cathouse. Not as good as Aberdeen but a fun filled night anyway. Stayed with Dave, really nice flat.
2:06 The rock n roll circus is on it's way to Edinburgh, last gig on the tour, seems to have all blended together as one big party.
3:30 just leaving Glasvegas, picked up all the gear from the venue. It's fuckin' raining again. We're all spending out for a travel lodge tonight. We want to get a good sleep for the ride home tomorrow. I can't believe we at Edinburgh already, seems to have gone by really fast. I feel like we've proved we're road worthy. I'm looking on to the last show tonight, Rat:Daddy have given us the middle slot,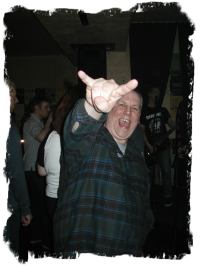 which should give us a looser crowd.
I've heard people saying the road is a complete life style. It seems so far away from our normal lives, the people we meet and the places we go seem endlessly interesting, just because we're gone before we really get a taste. I've spoken to people who know the band full of good comments and well wishings as well as new people who really enjoyed the gigs wishing us all the best, slept in cars, on floors, sofas, rocked, and smiled, I can say it's been worthwhile.
One more show, in the Scottish capital, can't wait.

10th March '03
10:32 a hard start to the long drive home, last night the tour finished in true RNR style, the changesone all-stars rumbled the walls.
It seems hard to believe we'll all be home soon. This has made memories for all of Loose Thread.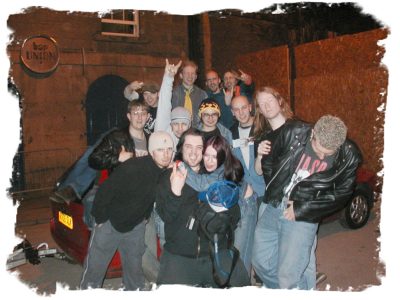 All the bands on the tour work together to achieve the same thing and changesone is common ground without it we wouldn't be here and wouldn't have had the fun we've had together. I always think confidence in "who you are" and "what you do" is a precious thing and the ability to not become a "c#*t" is even more of a gift, 'cos lets face it many people are, but no one involved in this tour is, we all know where they wanna be and know how important working together is, the fact that this extends into friendship is welcomed and cherished.
10:58 fighting our way out of Edinburgh, the sun shines and the long road home starts to call.
12:39 cross the border into England.
3:34 just passing Stoke, the day is grey, but we're creeping our way home.
5:00 just got to the M1 another few hours and we'll be home. My mind keeps replaying the last hour or two of last nights gig, it reminds me why I wanted to do this.
Dave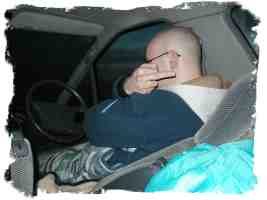 Loose Thread